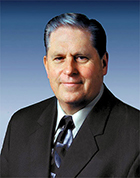 George E. Martini, CIC, President & COO of Allen Lawrence & Associates, LLC has been with the company since 1977. The company's revenues have grown exponentially since he became President. As well, George has been involved in a number of acquisitions for the company.

He is responsible for running the organization and all departments are required to report directly to him. Although producing business is done by AL&A's sales team, George has been known to visit current and prospective clients.

"Our sales group is very talented at offering focused risk assessment to our clients, so they can understand the financial exposures they face," says George. "I believe that all of us are extremely focused on our clients."

More than four decades ago, George started his insurance career literally in the mailroom at Allstate Insurance Company. Later he honed his impressive professional skills as an Insurance Broker at Rodgers & Cummings Insurance Brokers when he secured the national Burger King account for the agency.

George is currently a member of The Council of Insurance Agents & Brokers and earned his CIC designation from The Society of Certified Insurance Counselors. In September 2002, the Governor appointed him to the California Earthquake Authority Panel. Additionally, George is a member of California Trucking Association.

George, an avid fisherman – whose favorite fishing hole is Cabo San Lucas, Mexico - and golfer, holds a Bachelor of Arts degree from University of South Florida.

Since 1972, Allen Lawrence & Associates, LLC has been serving the insurance needs of businesses and individuals throughout the United States. As a broker, Allen Lawrence & Associates, LLC represents you, the buyer of insurance, in the world insurance market. Our team of professionals is here to assist you in evaluating operating risks, and preventing financial loss to you and your stakeholders. Our goal is to provide you with an overall insurance and risk management strategy so you purchase appropriate coverage for your specific needs.

As an organization, Allen Lawrence & Associates, LLC is devoted and organized to be of service to you regardless of your company's risk, operation or locations. To accomplish this, specialized programs staffed with professionals who have years of experience and related backgrounds are here to help you. Our specialists are available to assist you with Property, Casualty, Surety, Aviation, Employee Benefits, Marine, Claims, Loss Prevention, Risk Management Services and Alternative Risk Transfer Mechanisms.