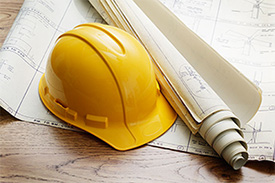 Insurance for the construction industry is different from all other industries. At Allen Lawrence & Associates, LLC , we understand that better than anyone else. We have been insuring contractors since 1972. We have the expertise to handle your certificate and surety requirements, assist with contract analysis and provide you with the best value for your insurance overages.
Partnering with Allen Lawrence & Associates, LLC also means that you will receive services you can actually use in your business. From human resource consulting to safety training to a full risk management audit, we help your business manage the necessary risks you take every day and transfer the unforeseen risks.

Rest assured if you are a developer, general contractor or sub-contractor, we can handle all your insurance needs including; surety bonding, wrap-ups, course-of-construction, liability, workers' compensation, auto, property and contractors' equipment coverage. Coverages that meet your needs at the best price.
Coverages —
Property/Liability
Inland Marine
Workers' Compensation
Surety Crime/Fidelity
Directors & Officers Liability
401(k) & Section 125 Plans
Coverages
Course of Construction
Earthquake & Flood
Truck/Automobile
Excess/Umbrella Liability
Group Medical
Key Person Life Insurance