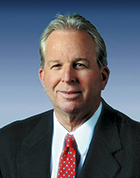 An insurance professional specializing in Property, Transportation, Contractors and Manufacturing Risks, Stewart J. Kops has been with Allen Lawrence & Associates, LLC since 1984.

"I love this industry for many reasons. Mainly, the ability to meet so many new people who have created fascinating business," says Stewart.

Between 1982 - 1984 Stewart was a Sales Representative for the Auto Club of Southern California. Today Stewart is Executive Vice President and Partner of Allen Lawrence & Associates, LLC He oversees sales, the company's sales managers and runs the telemarketing department. Stewart is a member of The Council of Insurance Agents & Brokers and a member of California Trucking Association.

"My clients trust that I will find them the best value in the marketplace and they rely on my expertise and judgment," says Stewart when asked what his clients say about him. "I'm a very good listener. Once I determine what the problem is, I help solve it," he adds.

Insurance aside, Stewart has an interesting pro basketball background having played forward in the European Basketball League where he gave such notable players as Swen Nater, Greg Myers and ML Carr a run for their money. During his last year of undergraduate work, Stewart worked for the Secretary of the Interior studying the effect of off-shore drilling in the state of California. His reports were reviewed by the Secretary of the Interior and Vice President, Nelson Rockefeller. Stewart has a Bachelor of Arts degree from University of California Riverside and a Juris Doctorate from Western State University in Fullerton.
Since 1972, Allen Lawrence & Associates, LLC has been serving the insurance needs of businesses and individuals throughout the United States. As a broker, Allen Lawrence & Associates, LLC represents you, the buyer of insurance, in the world insurance market. Our team of professionals is here to assist you in evaluating operating risks, and preventing financial loss to you and your stakeholders. Our goal is to provide you with an overall insurance and risk management strategy so you purchase appropriate coverage for your specific needs.

As an organization, Allen Lawrence & Associates, LLC is devoted and organized to be of service to you regardless of your company's risk, operation or locations. To accomplish this, specialized programs staffed with professionals who have years of experience and related backgrounds are here to help you. Our specialists are available to assist you with Property, Casualty, Surety, Aviation, Employee Benefits, Marine, Claims, Loss Prevention, Risk Management Services and Alternative Risk Transfer Mechanisms.